Source: Logistics Manager
DHL Supply Chain has bought four Sawyer robots to be used for packing tasks. The technology will be used flexibly across 19 of its UK co-packing and production centres; moving to support seasonal demands.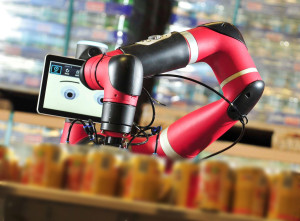 DHL said it will be "upskilling its existing co-packing teams to support its growth and apply this new technology, hiring specialist roles such as robotics technician, project engineer as well as other production management roles."
The logistics company is also exploring how automation and robotics could be introduced to other parts of the supply chain. Following the purchase, DHL plans to invest more than £1 million in automation and robotics. over the next year.
"The introduction of collaborative robotics into logistics is something we've been exploring at DHL for a while," said Simon Woodward, director of co-packing and production logistics, DHL Supply Chain. "After numerous trials, we are excited to now be offering our Sawyer robots as a solution to our co-packing customers' needs.
"Our customers who work in consumer industries are seeing huge fluctuations in demand as consumer preferences change. The rise of ecommerce has led to a surge in the number of deliveries within the network and the flexible nature of Sawyer allows us to quickly respond to changing needs, delivering solutions to meet demands and fill labour gaps."